Unlimited storage may mean unlimited disorganization
We have been shooting with cameras for over 100 years, between Louise and me. Fortunately, all the bad pictures are now lost. We prefer to think that the one we have are the good ones!
Still, between the scanning of older prints and the shooting of new images, the inventory goes up. Baby pictures, trips and landscapes, street shots, the list goes on. (I am using the word pictures to include videos, when necessary.)
Zenfolio just published a book – Zenfolio Book for Photographers which helped me to make some decisions about photo storage and organization.
Look and Feel
We are not professional photographers, but we strive to create good pictures and we hope that those friends whom we share these have a good experience and will come back to see more.
To achieve a good experience, the site that contains the pictures must reflect on vision and who we are. The look and feel of the site is really telling who we are, both in words and in pictures.
Finding Pictures
We currently have over ten thousand public pictures. Not that many, but enough to get lost looking for something that interest you, our friend.
These pictures are currently organized as:
Under each main entry, there is a hierarchy that captures additional details like: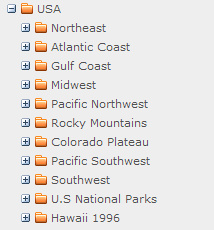 Under the U.S. National Parks you will find Collections or Galleries like:
Note: this last screen shot is from the public web site. The preceding ones were from the management side of our Zenfolio site. The hierarchy is displayed on the menus:

When time is limited, this type of organization requires too many clicks to find pictures you may be interested in!
Invitation to see pictures
Most of the time, we invite our friends to see some recent albums we prepare from a trip. This invitation may look like:

Unless one has time, or wants to find something specific, a quick slideshow will complete the invitation. Why would one go back to the main menu… and try figuring out what to look for? If you are curious, this is the Main Menu:
FEATURED may be a good way to start as we constantly update the Galleries and Collections in this menu.
RECENTLY ADDED will show you our latest additions. You may have missed some invitation, time to catch up.
Enjoy. Thanks for watching.
Coming next: Using the Search tool.