From August 12 to August 19, our energies were focused on taking care of Céline, our almost two year old granddaughter, while our daughter Julie was honored at the 20th USANA Convention in Salt Lake City. She was also a speaker at a training session that we enjoyed immensely.
We have set a number of various albums depicting the week. As some of them may not be of general interest, we kept them with a password. (Please ask for it if you are interested.) Here they come!
Du 12 au 19 août, nos énergies se sont concentrées sur prendre soin de Céline, notre petite fille de presque deux ans. pendant que notre fille Julie était honorée au 20ème Congrès international USANA à Salt Lake City. Elle était aussi conférencière dans une séance d'entraînement que nous avons beaucoup aimé.
Nous avons fait des albums présentant cette semaine-là. Comme ils ne sont pas d'intérêt général, nous les gardons avec un mot de passe. (Veuillez le demander si cela vous intéresse.). Les voici qui arrivent !
Adventures in babysitting
The USANA Convention had over 8,500 visitors from all over the world, Our job was to free Julie from the worries of being a mother --- at least from having a two year old wondering amongst the crowd.
Luckily, there were babysitting area in the Salt Lake City Convention Center, well organized by USANA, and also in the Energy Solutions Arena. We took her as well to our KOA campground to enjoy the pool.
At the campground - The pool was also well used!
Aventures en garde d'enfants
Le congrès Usana avait 8500 visiteurs du monde entier. Notre fonction était de libérer Julie de ses iquiétudes de mère --- au moins d'avoir un bébé de deux ans se promenant dans la foulle.
Heureusement, il y avait un endroit pour garder les enfants au Salt Lake City Convention Center, offert par USANA, et aussi un terrain de jeux à Energy Solutions Arena. Nous l'avons aussi amenée à notre camping pour profiter de la piscine.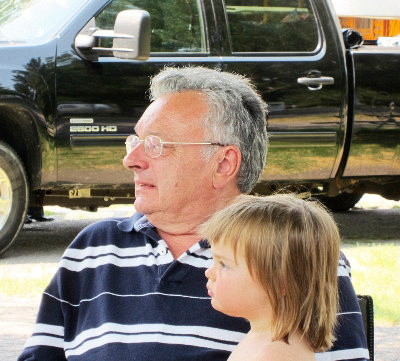 Céline was adorable. We also took her to the convention center:
Céline a été adorable. Nous l'avons aussi amenée au centre des congrès :
and to the playground of the arena: (Lifetime products, as in the folding tables we use. A Utah company!)
et au terrain de jeux du stade : (Produits Lifetime, comme dans les tables pliantes que nous avons utilisées. Une compagnie de l'Utah !)
Julie Promotes Prospecting
We were very proud to see Julie presenting with Pat, an old business friend, a strong one hour on:
Julie fait la promotion de la prospection
Nous étions très fiers de voir Julie faire une présentation de plus d'une heure avec son amie Pat :
The delivery was excellent and the content very useful and informative. A great sense of humour! Many were in attendance, and she was applauded heavily by the California delegates! They loved her.
L'élocution était excellente et le contenu très utile et instructif. Un bon sens de l'humour ! Il y avait beaucoup de spectateurs et elle a été longuement applaudie par les délégués de la Californie ! Ils l'ont adorée.
Julie is recognized at the USANA Convention
Julie has been with USANA many years, however this year was her best. Not only did she achieved a Gold Directorship, but she also placed in the top 25 associates that grew their business the most!
Julie est reconnue au congrès USANA
Julie est avec USANA depuis des années. Cependant, cette année a été sa meilleure. Non seulement a-t-elle atteint le niveau Or, mais elle s'est aussi placée dans les 25 associés qui ont le plus développé leur entreprise !


Parting notes:
For Louise and I, the week was great, totally tiring, exhausting, but we enjoyed the people, especially, Julie's group.
Dernières réflexions :
Pour Louise et moi, ce fut une excellente semaine, totalement fatiguante, épuisante, mais nous avons aimé rencontrer les gens, surtout le groupe de Julie.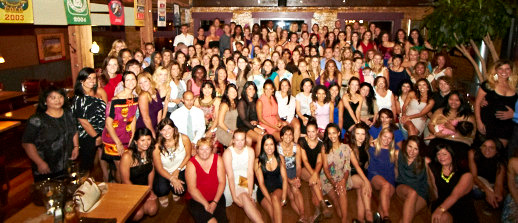 Babysitting was easy, Céline is adorable and we were very proud of Julie's achievements.
Garder Céline était facile, elle est si adorable; nous étions aussi très fiers des réussites de Julie.
Random pictures...
Autres images...
First evening registration...
Première soirée d'inscription...
Louise, as all USANA distributors in attendance, received a free iPad 2. She is now taming it.
Finally, it is a good time to rest as we are on our way to Capitol Reef National Park.
Louise, comme tous les distributeurs USANA présents, a reçu un iPad2 gratuit. Elle est en train de l'apprivoiser...
Enfin, c'est le temps de se reposer, en nous dirigeant vers Capitol Reef National Park.